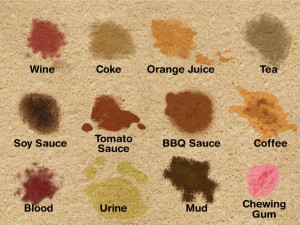 Spills are an unavoidable part of life and no matter how careful you might be, there are going to be times when someone ends up spilling something in the home; and if you have carpeting installed, this can mean stains. Whether it's red wine, coke or juice, mud or barbecue sauce, stains on the carpet happen.
It can be difficult enough to remove these stains right after the spill happens and the longer the stains are there, the harder they are to remove.
If there is a spill on your carpet which causes a stain, then the best thing to do is to contact a professional carpet cleaning service and ask their advice and if necessary, schedule an appointment to have the stain professionally removed.
If possible, try to leave the stain alone – if you're not an expert when it comes to carpet cleaning, then trying to remove it yourself could actually result in the stain being ground into the carpet and make it very difficult, if not impossible, to remove.
Even though there are a lot of stain removal products available which are marketed for use on carpets, but in general, it is a good idea to pass on these products and leave the carpet cleaning to the professionals, since many of these products can cause your carpet to fade as well as being potentially harmful to your health.
By contrast, the expert technicians who work for a carpet cleaning service know which products to use and which techniques and equipment to employ to remove stains from your carpet.
They have access to high-power equipment and special cleaning solutions which you don't and more importantly, they have in-depth expertise in carpet cleaning and stain removal; which is exactly why this is one job which you should call in the professionals to handle.
Call First Choice Carpet and Upholstery Cleaning today at (310) 374-1090 to schedule an appointment, request a FREE estimate or ask us a question.
Service Areas Include: Manhattan Beach, Hermosa Beach, Redondo Beach, Torrance, Hawthorne, Lawndale, El Segundo, Gardena, Lomita, Harbor City, San Pedro, Palos Verdes, Rolling Hills, Rancho Palos Verdes, Westchester, Culver City, South Bay and most parts of Los Angeles county.