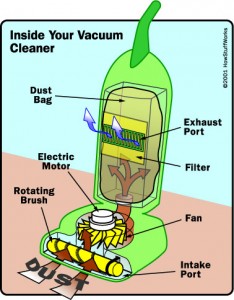 A vacuum cleaner is an important piece of equipment in your house. It helps you keep the carpets free of dust and debris.
If you do not maintain it right though it will not last as long.
You do not want to spend your hard earned cash on one of these for it to break down in a short time.
Below are some tips on maintaining one in the proper manner.
Bags
If your vacuum has a bag to collect the dirt in, it needs to be changed when it gets full. Otherwise, this will affect the suction of the machine.
Cups
Some vacuums have cups instead of bags. With these they have to be emptied every so often during use. These fill up faster than you think so keep a close eye on them.
Brushes
Clean the brush on your machine so that it can continue to help pick up debris. It is easy for the brush to get clogged up with things like pet and human hair, paper and lint.
Hoses
The hoses should be checked for holes or other damage. They can also be blocked for debris too. For the suction to be sufficient the blockage must be cleared. These hoses are used to reach further out from the vacuum brushes.
Vacuum Belt
The vacuum belt needs to be checked for damage every two months or so. It will typically need to be replaced often to keep the vacuum working in top condition.
Filters
Check any of your filters and clean and replace them when needed. These filters trap dirt that could harm the mechanics of the machine otherwise.
Follow the above tips for maintaining your vacuum cleaner and it will do its job better and longer for you. This machine is an investment so take care of it as such.
Call First Choice Carpet and Upholstery Cleaning today at (310) 374-1090 to schedule an appointment, request a FREE estimate or ask us a question.
Service Areas Include: Manhattan Beach, Hermosa Beach, Redondo Beach, Torrance, Hawthorne, Lawndale, El Segundo, Gardena, Lomita, Harbor City, San Pedro, Palos Verdes, Rolling Hills, Rancho Palos Verdes, Westchester, Culver City, South Bay and most parts of Los Angeles county.