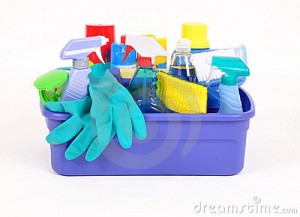 There are many stain removal products that can be found at home. Some are natural cleaning products while others are commercial cleaning products.
It all depends on what stain you are trying to get out as to which approach to take.
Let's look closer into this subject.
Shout is a great laundry pre-treatment for removing various stains from upholstery and other items made of cloth. This comes in spray form and other forms to treat the stains prior to washing them. It has even been found effective for stains caused by red wine.
Borax has long been used as a laundry additive. It helps to remove stains and tough dirt from your furniture and carpet. It is sold under the brand name of 20 Mule Team Borax. Just add it along with the laundry detergent you use.
Cold Water is good for getting some stains out. This works on fresh blood stains for instance. Just soak the stained item in cold water using a damp cloth until it seems to be releasing the blood from it. Keep rinsing and rubbing the area, but use with no soap. Whatever you do, do not use hot water, it will set the stain.
OxiClean Laundry Stain Remover is great for the most difficult of stains. This will help remove things like dirt, blood, grass, and wine. It can also be used on upholstery & rugs and other items in the house.
Spray and Wash has a great stain remover on the market. It is an effective pretreatment for all types of materials with a specialty in getting out oily stains. I uses an enzyme cleaner which makes if get out many types of food stains.
Washing Soda is another laundry additive that has been around for awhile. It helps to lift stubborn stains out.
Call First Choice Carpet & Upholstery Cleaning today at (310) 374-1090 to schedule an appointment, request a FREE estimate or ask us a question.
Service Areas Include: Manhattan Beach, Hermosa Beach, Redondo Beach, Torrance, Hawthorne, Lawndale, El Segundo, Gardena, Lomita, Harbor City, San Pedro, Palos Verdes, Rolling Hills, Rancho Palos Verdes, Westchester, Culver City, South Bay and most parts of Los Angeles county.