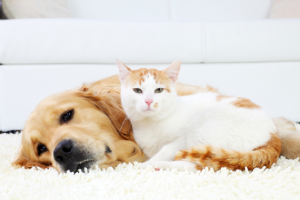 There are many different household products available on the market that will help you remove almost any type of pet stain.
The ideal solution in minimizing or removing pet stains is by simply cleaning the stains the minute they happen.
Cleaning them up won't require you to leave your home, so you won't have to rush out and buy any expensive types of cleaning products.
There are several ways to clean up and remove dog & cat stains from your carpet or furniture simply by using products already available in your home which you use on a regular basis, such as detergents, rubbing alcohol, vinegar, lemon juice, etc. Its simply a matter of knowing how to use these common household products and the procedures involved to clean up the pet stains.
Below you will find 3 tips on how to clean up pet stains
For your first option you can use one teaspoon of clear, household type ammonia to a half cup of cold water. You can use this solution in a spray bottle or apply it to the carpet directly. It is very important not to wet the carpets backing when you apply the solution. After you have applied the solution, use paper towels to blot then allow it to dry completely.
For a second option, you can use detergent solution made of hand soap or dish soap. The combination is one quarter of a teaspoon detergent to one quart of water. You should always make sure the soap doesn't contain bleach or lanolin.
The third and best option, is to use water, it can re-hydrate the stain to help with removal. Most types of pet stains can be cleaned up by using a steam cleaner. Once you have finished, be sure to dry the area as thoroughly as possible.
Call First Choice Carpet & Upholstery Cleaning today at (310) 374-1090 to schedule an appointment, ask us a question or to request a FREE estimate.
Service Areas Include: Manhattan Beach, Hermosa Beach, Redondo Beach, Torrance, Hawthorne, Lawndale, El Segundo, Gardena, Lomita, Harbor City, San Pedro, Palos Verdes, Rolling Hills, Rancho Palos Verdes, Westchester, Culver City, South Bay and most parts of Los Angeles county.