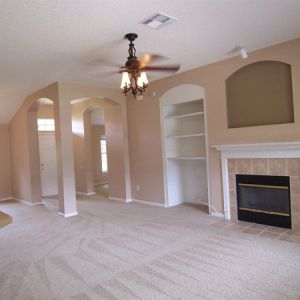 Nothing beats the feel of brand new carpet under your bare feet.  Sadly, as soon as your new carpet is laid it begins to collect dirt and debris and suddenly that vibrant new carpet is dingy and stiff.  Nothing can stop your carpet from aging, but having your carpet regularly cleaning will increase the life of your carpet while keeping it fresh and looking new.
If you are like most people, you are wondering how often you should have your carpet cleaned.  Perhaps you have never had your carpets cleaned before and wondering if you should.  Well, let me tell you nothing, aside from buying new carpet, will give you better results.  Laying new carpet is expensive, so maintaining your current carpet is ideal.  Not only will your carpet look new and smell fresh, you will be adding years to the life of your carpet and creating a healthy and safe environment for you and your loved ones.
How Often Should I Clean My Carpets?
The frequency of carpet cleaning depends on the potential for soiling.  The following is a good rule to follow for maximizing the use of professional cleaning:
Single Resident/Adults Only: Once every 12-18 months
Families with children: Twice a year, or ever 6-8 months
Families with pets: Every 3-6 months
Large families or multiple pets: Every 2-3 months
How Expensive Is A Professional Cleaner in Torrance?
Most people are concerned about the cost of having their carpets regularly cleaned.  But in truth having your carpets professional cleaned is extremely affordable.  You can contact professional carpet cleaners in your area for a free quote anytime.  Be sure to also ask if there will be any additional fees or if you will only pay the quoted price to keep from having an unwanted surprise on your bill. A reputable carpet cleaning company should commit to their price upfront, if they don't find someone else.
Getting The Most Out Of Your Carpet
In order keep your carpets lasting and looking new, you must carry out a regular carpet maintenance plan.  If you allow for dirt to build up in your carpet fibers, it will create friction and drastically increase the amount of wear and tear on your carpet.  Dirty carpet only lasts a fraction of the time that clean carpet does.  By simply have your carpets professionally cleaned every few months you can enjoy your carpet for years to come.
To learn more about professional carpet cleaning, call First Choice Carpet Cleaning in Torrance today at (310) 374-1090 to ask us a question, request a FREE estimate or schedule an appointment.
Carpet Cleaning Areas: Torrance, South Bay, Manhattan Beach, Hermosa Beach, Redondo Beach, Hawthorne, Lawndale, El Segundo, Gardena, Lomita, Harbor City, San Pedro, Palos Verdes, Rolling Hills, Rancho Palos Verdes, Westchester, Culver City, and most parts of Los Angeles county.