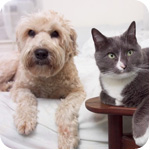 Every pet owner comes to a point where safe, effective pet odor removal is essential. Carpet and furniture can only be cleaned of pet dander and stray hairs for so long before they will need professional attention by the Manhattan Beach Pet Odor Removal Pros. Carpet and upholstery collect hair and other potential allergy-causing dander and debris between the base boards and the carpet.
By the time it becomes obvious that pet odor removal is needed, it is probably too late. This is because much of the pet byproducts that make your home dirty, unsanitary and smelly can't be seen by the naked eye. It is deeper within the fabric of your furniture and woven into your carpeting and area rugs in places you can't see from the top.
Even if you clean your home immaculately every single day, you will need Manhattan Beach Pet Odor Removal services at some point. In order to keep your home clean and sanitary it is best to hire professional cleaners to come in your home on a routine basis to keep the odor and hair from building up to begin with.
Now that it is clear why you need Manhattan Beach Pet Odor Removal Services, you may be wondering why you can't just do it yourself. DIY is a huge movement these days with some people even attempting to create their own solar panels in their living rooms.
The problem with the DIY movement is most people are more likely to mess things up and ruin their homes than they are to make something worth having. The same problem arises with DIY pet odor removal attempts: you could end up ruining your furniture or making matters worse.
Another thing to consider is that pet odor removal requires the use of chemical-based cleaners that could be a hazard in your home. Even products that claim to be all natural could damage fabrics and carpeting if you don't know exactly what you are doing.
Save your home and have a Manhattan Beach Pet Odor Removal specialist care for your home right from the start!
Call First Choice Pet Odor Removal Manhattan Beach at 310-374-1090 to schedule an appointment, ask us a question or request a FREE estimate.
We offer pet odor removal in Manhattan Beach, Hermosa Beach, Redondo Beach, Torrance, Hawthorne, Lawndale, El Segundo, Gardena, Lomita, Harbor City, San Pedro, Palos Verdes, Rolling Hills, Rancho Palos Verdes, Westchester, Culver City, South Bay and most parts of Los Angeles county.