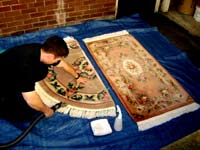 The Manhattan Beach Area Rug Cleaning pros have heard of some rather adventurous stories from customers who tried to clean their own rugs.
For instance, many people think they can just toss a small rug in the washing machine or even roll up a medium sized rug and toss it in the machine. Far too often the rugs are not designed to be washed through a machine and will come out in shreds or with the backing breaking to pieces.
Other people try to spot clean their area rugs only to find that they bleach too much and leave white or very pale spots. Sometimes they may use the wrong cleaners on the entire rug and distort the coloring to the point it no longer looks attractive in their home.
If you are considering a rug cleaning of any sort, it is important to call Manhattan Beach Area Rug Cleaning and have them do the job correctly. This is the only way to keep your rugs intact with vibrant, bright colors.
If you have some rugs that were cheap and which can easily be replaced, then you may try to clean them on your own. The problem comes with expensive rugs or those that you can no longer replace. You don't want to risk ruining them, so hiring Manhattan Beach Area Rug Cleaning professionals right from the beginning is essential.
A professional service like Manhattan Beach Area Rug Cleaning services will be familiar with all varieties of rugs, the materials they are made from, and the proper cleaning solutions that can be used on them. Without this information there is a huge risk of ruining a rug or at least changing the color so it is no longer the same rug that you originally purchased.
Manhattan Beach Area Rug Cleaning services are very affordable and are well worth the price when you see the beautiful rugs you are left with.
Call First Choice Area Rug Cleaning Manhattan Beach today at 310-374-1090 to schedule an appointment, ask us a question, or for a free estimate.
We offer area rug cleaning in Manhattan Beach, Hermosa Beach, Redondo Beach, Torrance, Hawthorne, Lawndale, El Segundo, Gardena, Lomita, Harbor City, San Pedro, Palos Verdes, Rolling Hills, Rancho Palos Verdes, Westchester, Culver City, South Bay and most parts of Los Angeles county.