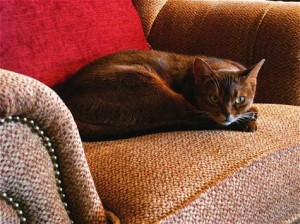 You love the feline members of your family, but you also love a sparkling clean home with a fresh scent.
Or, perhaps you purchased furniture used and brought it home to find the unpleasant stench of cat urine on a cushion.
Whatever the case may be and regardless of its origins, cat urine is one of the worst smells you will ever come across. It is definitely not a scent you want to smell in your home!
Everyone with a cat as well as those who purchase household items secondhand should know the following strategies for removing cat urine and the associated odors:
The sooner you tackle cat urine odor, the easier it is going to be to completely remove or even prevent the odor. If you have a cat, make sure you are always on the lookout for accidents so they can be cleaned immediately.
You may not be able to remove cat urine odor without professional cleaning services if it has gotten deep into your furniture, bedding or carpeting. Before you give up on a deep stain, call in the professionals to see if they can help.
You can create your own cleaner for cat urine by mixing the following together in a spray bottle: water, dish detergent, and hydrogen peroxide. Or you can purchase cleaners designed just for pet urine.
Always test the product on a small unseen area of your furniture before spraying it in larger or more obvious areas. If the colors fade or the fabric is otherwise harmed, do not use it anywhere else and seek the advice of a professional cleaning service.
You may also want to sprinkle the area affected by the urine with baking soda to help remove any lingering odors after the area has been thoroughly cleaned. The baking soda will harden and you can remove it or sweep it up later.
Call First Choice Carpet & Upholstery Cleaning today at (310) 374-1090 to schedule an appointment, request a FREE estimate or ask us a question.
Service Areas Include: Manhattan Beach, Hermosa Beach, Redondo Beach, Torrance, Hawthorne, Lawndale, El Segundo, Gardena, Lomita, Harbor City, San Pedro, Palos Verdes, Rolling Hills, Rancho Palos Verdes, Westchester, Culver City, South Bay and most parts of Los Angeles county.