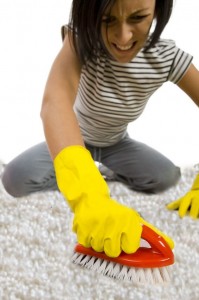 Carpet cleaning is a basic necessity whether you own or rent your home. You should keep your carpets in good condition or it makes the home look dirty and run down.
This is basic knowledge to virtually everyone today, but what most people do not understand is the virtue of hiring a professional carpet cleaning service.
If you have ever been tempted to clean your own carpeting to save a bit of money, read this short article before doing so.
Most people find that DIY carpet cleaning jobs end up with less than spectacular results.
You may want brightly colored carpeting that grabs attention, but what you often end up with is oddly colored carpeting with faded spots and other flaws. In some cases you can spend days cleaning your carpeting only to find there are very obvious stains that seem to already be set into the fabric.
What should you do to avoid this frustration?
You of course aren't going to settle for living with filthy carpeting, so let's consider the benefits of hiring a professional carpet cleaning service:
They bring their own heavy equipment.
If they damage the carpet they have to pay for it, not you.
They know what they're doing and can work much quicker than you can.
They have knowledge and products that will get the job done to a higher level of satisfaction.
When you hire carpet cleaning pros you are also guaranteed to get better results. They will use the right cleaning solution for the type of stains or dirt on your carpeting and their equipment will be more powerful than what you would likely find to use on your own.
They also have insider information and tricks that will take out some of the tough stains that you would never be able to get on your own.
Another benefit that professional teams have over you is their experience cleaning every type of carpet in existence. If you don't have that experience you can't compete with the exceptional results they will deliver.
The best part about hiring a professional carpet cleaner is the ability to pass the hard work and sweat off to someone else. Grab a cold drink and relax, the job is off your shoulders!
Call First Choice Carpet and Upholstery Cleaning today at (310) 374-1090 to schedule an appointment, request a FREE estimate or ask us a question.

Service Areas Include: Manhattan Beach, Hermosa Beach, Redondo Beach, Torrance, Hawthorne, Lawndale, El Segundo, Gardena, Lomita, Harbor City, San Pedro, Palos Verdes, Rolling Hills, Rancho Palos Verdes, Westchester, Culver City, South Bay and most parts of Los Angeles county.