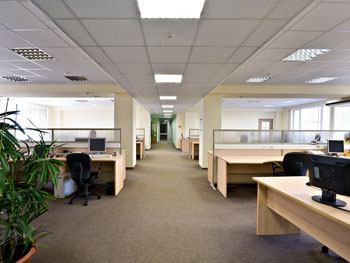 Let's face it, it is not cheap to have your carpets in your office or other building cleaned regularly, but with some practical Commercial Carpet Cleaning Tips you can keep your carpets looking fresher and lasting longer. First, one of the best ways to keep your carpet from getting dirt deep down into the carpet fibers is to vacuum it on a regular basis because crumbs and other particles that end up being spilled during the day, can become ground into the fibers very easily.
Secondly, if you have a stain, blot is immediately because will get the liquid up so that it does not spread into the surrounding carpet. Make sure you blot, do not rub because when you do this, you are simply making the stain bigger. In addition, do not pour water onto the stain because this just spreads the stain around and having water seep into the carpet padding can cause molding deep within the carpet.
Other Commercial Carpet Cleaning Tips include placing carpet protectors in high-traffic areas, this way you are not paying as much to replace your carpets and you make them last longer. Make sure that you have a good stain remover from the carpet cleaning service that regularly cleans your carpet, that way in between cleanings; you have a spot cleaner that will help to remove the stains, such as coffee stains, which is one of the most common types of stains in offices.
By following some simple Commercial Carpet Cleaning Tips, you can get the most out of your carpet so that you are not spending more on cleaning and replacing the carpet than you need to. In addition, make sure that you have everyone in the office on board with watching the stains on the carpet and if they spill something, everyone should know what to do.
Call First Choice Carpet & Upholstery Cleaning today at (310) 374-1090 to schedule an appointment, request a FREE estimate or ask us a question.
Service Areas Include: Manhattan Beach, Hermosa Beach, Redondo Beach, Torrance, Hawthorne, Lawndale, El Segundo, Gardena, Lomita, Harbor City, San Pedro, Palos Verdes, Rolling Hills, Rancho Palos Verdes, Westchester, Culver City, South Bay and most parts of Los Angeles county.