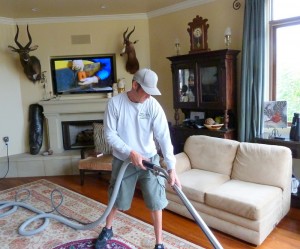 First Choice Carpet Cleaning Manhattan Beach has been locally owned and operated here in the South Bay since 1992 and has the experience and knowledge to bring your carpets and rugs back to life.
Your carpet sees a lot of use and over time, this can take its toll, with your carpet left looking a little dingy and generally not as good as it was when it was first installed.
Other than regular wear and tear, there is dust, dirt and debris tracked in outside on shoes – and it will work its way into your carpet. Much of this dirt can be taken care of by regular vacuuming and if the soil is especially severe, then you may want to do some deep cleaning with a steam cleaning machine.
However, after a while, even a basic steam cleaning won't get your carpet looking as good as new. If you hire First Choice Carpet Cleaning Manhattan Beach, they can perform a thorough deep cleaning process to make sure your carpets look and smell fresh again.
A store rental or low-grade steam carpet cleaners just can't get the job done after a certain point, but a professional carpet cleaner has the advantage of experience in carpet cleaning as well as access to high-power steam cleaning equipment which is above and beyond what you would be able to purchase or rent on your own.
A professional knows how to remove even the most stubborn of stains; if there are stains which simply cannot be removed by any means, they can dye these areas to match the rest of your carpet.
First Choice Carpet Cleaning Manhattan Beach may not be able to undo the wear and tear caused by daily use, but they can thoroughly clean them to remove all dirt, stains and allergens.
After a professional cleaning, your carpets will be clean, fresh and deodorized and with the proper care, they will look every bit as good as they day that they were first installed in your home.
Call First Choice Carpet Cleaning Manhattan Beach today at (310) 374-1090 to schedule an appointment, ask us a question or to request a FREE estimate.
We offer carpet cleaning in Manhattan Beach, Hermosa Beach, Redondo Beach, Torrance, Hawthorne, Lawndale, El Segundo, Gardena, Lomita, Harbor City, San Pedro, Palos Verdes, Rolling Hills, Rancho Palos Verdes, Westchester, Culver City, South Bay and most parts of Los Angeles county.