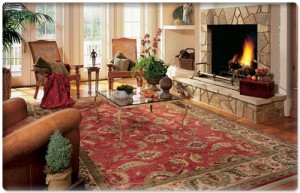 Finding the perfect area rugs for your home can be an arduous task indeed.
Whether you want something that's hardy and stain resistant or simply something beautiful that lasts, wool area rugs are an ideal choice for many homeowners.
Here are a few reasons to consider wool the next time you're in the market for some quality rugs.
Do you have gorgeous hardwood floors?
Are you tired of sanding out scuffs and scratches? Are loud, intrusive footsteps a constant nuisance? Believe it or not, having a few wool area rugs placed in busy areas such as hallways, living rooms, and bedrooms can do wonders for preserving your floor. Along with protecting it from scratches, wool rugs are perfect for keeping your feet warm during chillier weather when hardwood floors can be freezing. Not only do they help insulate the room, but they are wonderful for muffling loud footsteps, which is especially useful for attics and upstairs rooms.
Wool area rugs are beneficial in a variety of ways!
For example, wool is notorious for not only being stain resistant and flame resistant, but it also accepts dyeing very well, resulting in colors that stay bright and vibrant for years to come. They're also simple to clean—depending on the length of the fibers, simply vacuuming regularly is enough to keep your rugs looking great for years to come. This is because the weave of the fibers keeps dirt, dust, pet hair, and more near the surface of the carpet where it's easier to remove. For longer fibers, such as the kind found in shag carpets, it's a good idea to at least comb them out regularly.
What about stains?
While wool area rugs are great at absorbing dye, another advantage to it is that it also releases moisture as well, which means that stains are relatively easy to clean. Simply blot it up with a soft cloth, then use your favorite gentle detergent or carpet spray. Avoid using anything too acidic or strong, however, as it may bleach out your carpet. To dry, simply hang in a well ventilated place or run the rug through your dryer on low heat.
Wool area rugs are beautiful and low maintenance!
In allowing you to enjoy both their pretty patterns and the natural beauty of your floors, they are perfect for giving your room that extra touch it needs to tie all of your decoration together into one harmonious whole.
When it comes time to have your wool area rugs cleaned professionally, be sure to call First Choice Carpet Cleaning Redondo Beach at (310) 374-1090 to schedule an appointment or ask us a question.
Carpet Cleaning Areas: Redondo Beach 90277, 90278, Manhattan Beach 90266, Torrance, Hermosa Beach, Hawthorne, Lawndale, El Segundo, Gardena, Lomita, Harbor City, San Pedro, Palos Verdes, Rolling Hills, Rancho Palos Verdes, Westchester, Culver City, South Bay and most parts of Los Angeles county.