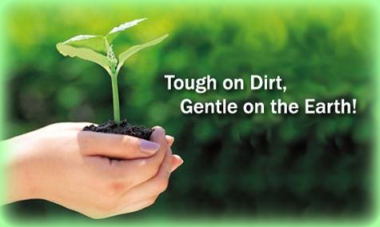 There are a lot of different carpet cleaning products out there, many of which contain chemicals which are potentially harmful, especially with prolonged exposure.
Some cleaning agents are suspected to cause or contribute to certain diseases, including neurological and immune disorders, allergies, asthma and even certain forms of cancer.
Not only can these chemicals harm people and pets, they also damage the environment.
If you're concerned about the potential dangers of conventional carpet cleaning products, you'll be glad to know that there are alternatives available.
There are green carpet cleaning products on the market as well as professional carpet cleaners who specialize in environmentally friendly carpet cleaning services. These companies use products which are hypoallergenic and biodegradable and do not cause any damage to the environment, people or animals.
The carpet cleaning products used by green carpet cleaning services often use enzymes rather than synthetically produced chemicals to remove soil, stains and odors from carpeting. In the hands of an experienced carpet cleaning professional, these cleaning products can be every bit as effective as their chemical counterparts.
These products are often used in combination with a hot water cleaning machine in order to thoroughly remove stains and odors. Many environmentally friendly cleaning services use low-flow carpet cleaning machines in order to minimize the amount of water needed during the cleaning process as well as to reduce drying time.
Rather than having to wait for several hours to as long as an entire day for your carpets to completely dry as can be the case with some carpet cleaning equipment, your carpeting can be ready to walk on in just a few hours.
If you'd like to make your carpets clean, fresh and looking great without risking the harm that chemical carpet cleaning products can cause, make sure to inquire with a carpet cleaning company that offers environmentally friendly cleaning services when it's time to give your carpets a thorough cleaning.
Call First Choice Carpet & Upholstery Cleaning today at (310) 374-1090 to schedule an appointment, request a FREE estimate or ask us a question.
Service Areas Include: Manhattan Beach, Hermosa Beach, Redondo Beach, Torrance, Hawthorne, Lawndale, El Segundo, Gardena, Lomita, Harbor City, San Pedro, Palos Verdes, Rolling Hills, Rancho Palos Verdes, Westchester, Culver City, South Bay and most parts of Los Angeles county.