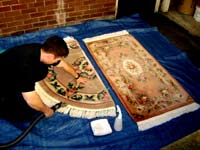 Everyone needs area rug cleaning tips. Rugs are among the most abused items in most households because most people don't think about cleaning them until they are so unsightly no one can stand to look at them any longer.
Don't let that be your home! You will have a much easier time cleaning your rugs and keeping your home beautiful and comfortable if you take some simple steps to clean them on a routine basis. The following area rug cleaning tips are designed to make keeping those rugs spotless much easier and less time consuming.
#1: Rotate all rugs on a routine basis
It only takes a moment to flip a small rug around and only a few moments to move around a larger one. Doing this very simple, quick task can help extend the life of your rugs and keep them looking attractive between cleanings.
This is especially important if you have rugs located in areas of very heavy foot traffic.
#2: Don't skip the rugs when you vacuum
It's amazing what a simple vacuum can do for your area rugs. This is one of those area rug cleaning tips that many people want to gloss over, but don't! Make sure you vacuum your rugs on a routine basis to prevent the build-up of dirt and grime.
#3: If your rugs appear to be losing color, they may just need a professional cleaning
Many people think they are losing color in their area rugs when actually the color is just being hidden behind dirt and grime. If you do a thorough vacuum and cleaning session on your rugs and still think they are hiding color behind dirt, a professional cleaning service may need to be called in.
If you have expensive area rugs that you just can't keep clean on your own, consider hiring a professional cleaner to care for them on a regular basis. This will extend their life so you don't have to put out money to replace them too often.
Call First Choice Carpet Cleaning today at (310) 374-1090 to schedule an appointment, request a FREE estimate or ask us a question.
Service Areas Include: Manhattan Beach, Hermosa Beach, Redondo Beach, Torrance, Hawthorne, Lawndale, El Segundo, Gardena, Lomita, Harbor City, San Pedro, Palos Verdes, Rolling Hills, Rancho Palos Verdes, Westchester, Culver City, South Bay and most parts of Los Angeles county.