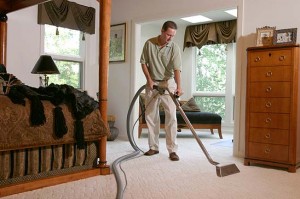 If you're thinking about cleaning your carpets yourself, you should definitely hire a professional South Bay Carpet Cleaner to do the work instead.  Whether you are getting ready for the holidays, trying to sell your home, or simply want to give your house a thorough cleaning, professional carpet cleaners have the expertise and equipment to get the job done quickly and can remove a lot more dirt and stains than any home cleaner or store rental can.
1. Don't Replace Your Carpets!
Professional carpet cleaners know the ins and outs of the business.  They are knowledgeable and experienced in removing stains and know exactly which cleaning agents should be used for various situations and materials.  Professionals know how avoid damaging your carpets by working with, instead of against, the variations in your carpet's fibers.  Cleaning your carpets with a rental machine may not only leave dirt behind, it might even cause irreparable damage to your expensive carpeting.  It's not worth it!  Hire a professionals and you will be amazed at how new and beautiful your carpet will be.
2. Reduce Allergens With A Thorough Cleaning
If you are having difficulty breathing in your home, it may be because of the dirt, germs, and even pet dander that has accumulated in your carpet or even under your carpet padding.  Over time these allergens collect in the fibers of your carpet and can irritate your allergies.  Having your carpet regularly cleaned by a professional not only greatly impacts the cleanliness of your home, but also keeps you and your loved ones healthy.
3. Increase The Longevity of Your Carpet
Did you know that a dirty carpet will show wear and tear much faster than a clean carpet?  That's right, having your carpet regularly cleaned will keep you carpet looking new for years.  You won't have to worry about damage in your high traffic areas or even long term stains.  Professional carpet cleaners know how to remove even the most difficult to lift stains such as wine.  Put your expensive carpets and floor covering into the hands of professionals, and your carpet will look good for years to come.
Carpet cleaning professionals use the latest technologies to ensure your carpets get as clean as possible.  They will have cleaning machines mounted to their trucks for a more powerful cleaning that is possible from a portable cleaner.  Of course, there are a ton of DIY rentals available for cleaning your carpets, but not only does these dim in comparison but you actually run the risk of ruining your carpets forever.  Let professionals clean your carpets and rugs and your carpet will look as great as it did the day it was laid!
Hire First Choice Carpet Cleaning of South Bay today! Call (310) 374-1090 to schedule an appointment, ask us a question or to request a FREE estimate.
Service Areas Include: South Bay, Manhattan Beach, Hermosa Beach, Redondo Beach, Torrance, Hawthorne, Lawndale, El Segundo, Gardena, Lomita, Harbor City, San Pedro, Palos Verdes, Rolling Hills, Rancho Palos Verdes, Westchester, Culver City, and most parts of Los Angeles county.